Discover more from Love Sheffield Newsletter
By Brian Mosley, Founder & Host of Love Sheffield.
Meet Siobhan O'Malley, Wild foraging guide
Wild Foraging in and around Sheffield
Recently, I had the pleasure of joining a friend in Love Sheffield, Siobhan O'Malley for a stroll that was as educational as it was delightful.
I met Siobhan years ago, under a tree in Wadsley, as we stood for hours to prevent contractors from destroying our mature street trees for profit… It was a visceral stand for life - and I'll remember her forever for that stand, and for many more days before we saw an end to that madness.
Thanks for reading Love Sheffield Newsletter! Subscribe for free to receive new posts and support my work.
Today was a much happier day! Siobhan shared insights from her life, from her childhood in South East London, where she gathered blackberries for her mother's crumble—despite her own aversion to them—to her life in Sheffield, where she foraged wild apples and blackberries with her own child.
Siobhan's devotion to the natural world was obvious as she related her foraging adventures, during which she became well-versed in many plant and mushroom species. She invested time in studying guidebooks and getting out to connect directly with nature, taking notes and recording her observations over time. Her curiosity led her to master identification techniques, including the spore print method, acknowledging its importance as one of many identifying features.
She shared her experiences with a clear message: the necessity of absolute certainty when identifying species, particularly when they appear similar yet have vastly different consequences upon consumption, as with the sheathed wood tuft and the deadly gallerina. She reiterated the forager's golden rule: when in doubt, leave it out.
Siobhan's knowledge was not limited to identification alone; she expressed an understanding of the ecological functions of fungi, from their contribution to soil health to their role in maintaining ecosystem balance. The seeds of her passion for biology and the natural world, sown while watching wildlife programs as a child, have flourished into a rich appreciation for nature's marvels.
She spoke fondly of her experiences teaching children, nurturing their curiosity, and instilling a respect for nature in them. Through her role at the Rivelin Woodland Skills Centre, she has imparted essential foraging skills, emphasising safety and sustainability. Her enthusiasm for engaging with the foraging community shone through as she recounted her interactions and the knowledge exchanged with individuals like Steve Warner and Colin Unsworth.
The conversation was a reflection on Siobhan's profound bond with the earth and its gifts, underscoring our integral connection to nature. The insights she has gained through years of observation and learning are a treasure, and her eagerness to share this wisdom—to reconnect others with the natural world—is nothing short of inspiring. The dialogue with Siobhan was truly an enlightening experience, you can listen in to the conversation we had into the recording below.
I hope you enjoy this as much as I did.
This is such a fascinating subject, I highly recommend booking a walk with Siobhan via her facebook page here, and exploring this subject in depth - I've created a learning guide at the bottom of this article to give you a start.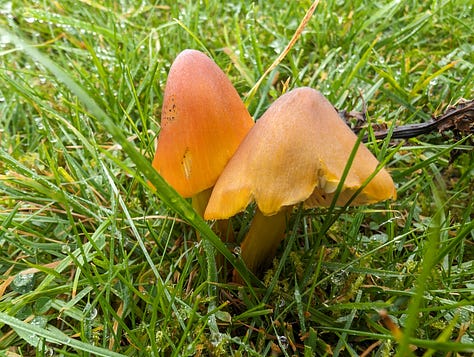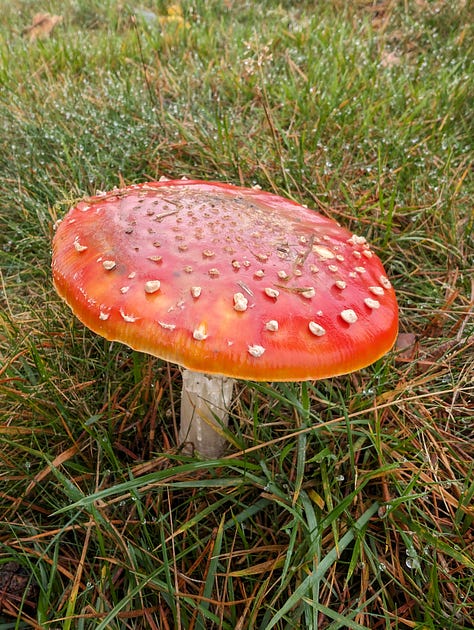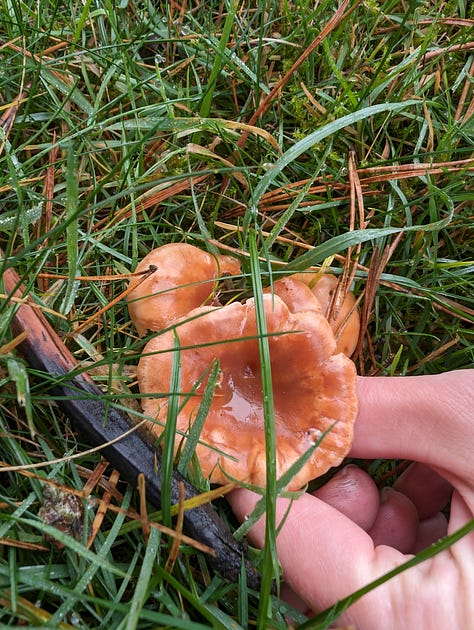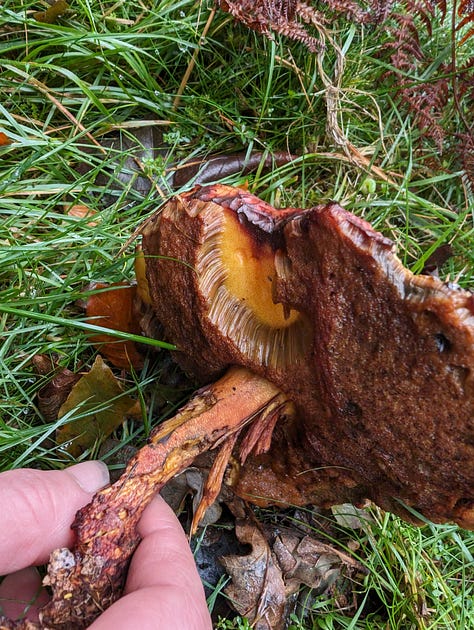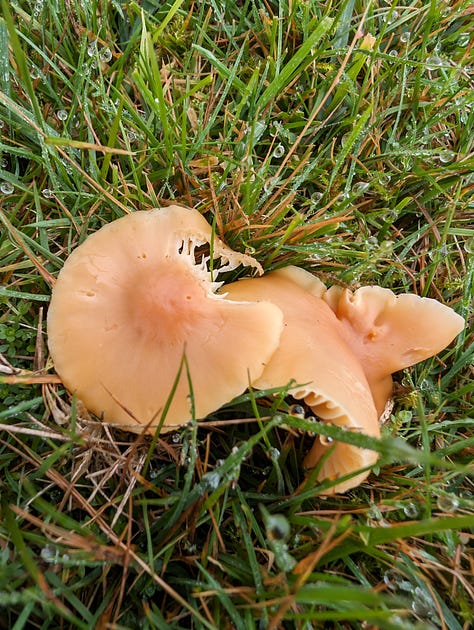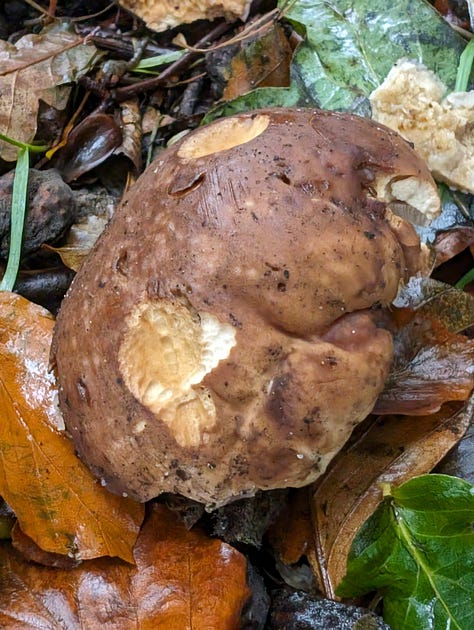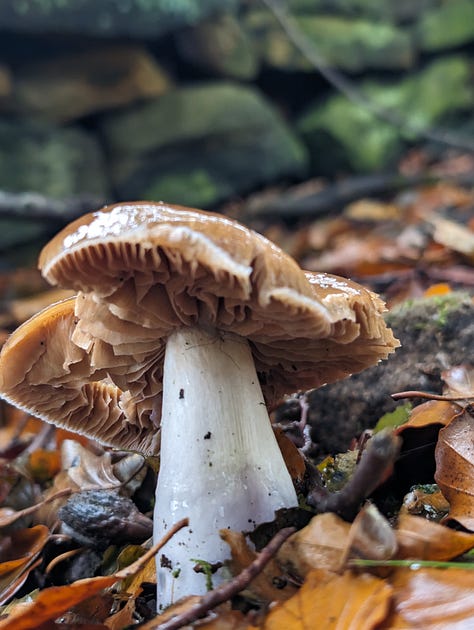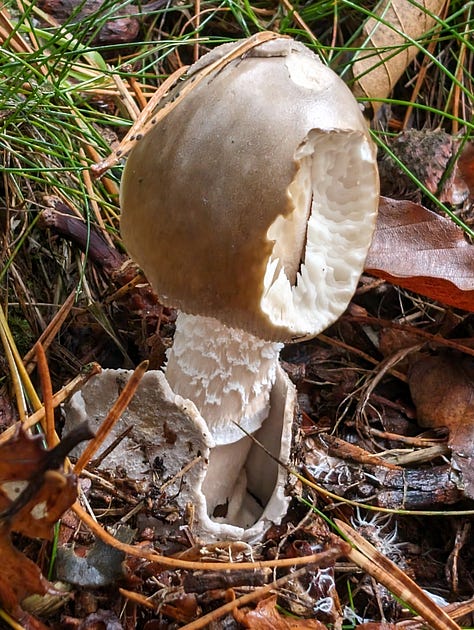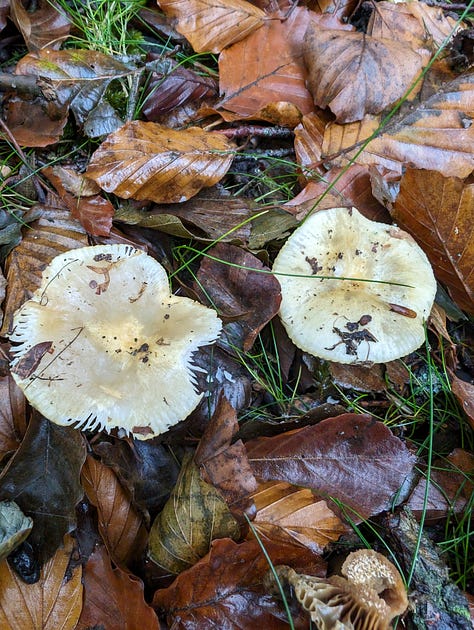 List of fungi discussed on our walk…
Witch's cap / Blackening wax cap (6:24)

Petticoat mottlegill / Panaeolus (10:34)

Meadow wax caps (10:56)

Flammulina velutipes (15:10)

Penny bun / Cep / Boletus edulis (16:03)

Porcini (16:03)

Beefsteak fungus (16:06)

Morels (16:17)

Amanita muscaria (18:36)

Amanita rubescens / Blusher (18:41)

Sheathed wood tuft (22:40)

Funeral bell (22:44)

Deadly galerina (22:45)

Waxcaps (22:48)

Entoloma waxcaps (27:10)

Russulas (35:12)

Stropharia (37:37)

Psathyrella (38:15)

Puffballs (38:16)

Mycena (39:26)

Sulphur tufts (43:55)

Honey fungus (44:08)

Scarletina bolete / Neoboletus praestigiator (45:08)

Birch polypore (45:50)

Cordyceps (47:30)

Hen of the woods (47:32)
It's a fascinating world of discovery, and luckily as Siobhan mentioned in our conversation, it's become much easier to access knowledge through the internet which wasn't possible 20 years ago!
Here's a focused, step-by-step learning plan for a novice in fungi foraging which identifies the 20% of the topic that will yield 80% of the desired results. Click on the link » on each bullet point to expand. :
1. Start with the basics:
2. Focus on common and easily identifiable species:
3. Learn about mushroom habitats and seasons:
4. Join a local mycology group or foraging course:
5. Practice responsible foraging:
6. Expand your knowledge gradually:
I hope this inspired you to find out more about fungi and wild foraging, Siobhan has a Facebook page here : Shony's Mushrooms, and takes groups on frequent outings - please reach out to her for more information.
Thanks for reading Love Sheffield Newsletter! Subscribe for free to receive new posts and support my work.